Home » Accounting » Outsourcing
The benefits of outsourcing of accounting services
The basic objective of outsourcing is to get rid of all the worries of client associated with ensuring this activity, as well as the need to get rid of client´s management daily checks billing processes. The client doesn't have to make a lot of routine operations related to the accounting. Here are the benefits that will bring you the outsourcing of accounting services.
Do Less. Achieve More. Focus on What Really Matters.
Save Upto 50% on Your Accounting Costs.
Create More Revenue. With Current Staff.
Grow your Business. Not Staffing Worries.
No More Training New Accountants. EVER.
Bookkeeping to Tax Returns. At One Place.
Hire a Bookkeeper Online. On-Demand.
Reach Us Anytime. 24-hours-a-day.
Outsourcing - Some Remarkable Facts!
While cost-cutting is among these key areas, the executives also reported equal levels of control in reliability, cost variability improvements and effective implementation of ideas.
Furthermore, 55% of respondents said outsourcing allows their companies to implement strategies and change at a faster and more controlled rate.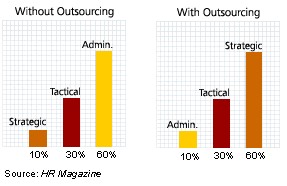 Outsourcing has been declared as a life saver for the many accounting firms. Accounting outsourcing has almost become mandatory for all those accounting firms who want to pay attention to inceasing their profits. The idea of accounting outsourcing has been developed to lessen the burden of accounting firms, so that they can manage their peak season tasks well.
Professional attitude
We deal especially with the accounting and financial services. We have been permanently monitoring the legislation, completing the trainings and daily encountering problems in accounting practice. The variabilty of our clients is a source of rich experience. Our priority is to access to the individual needs of the client. We will find solutions to your problems and you will use only those services that you really need.
Knowledge of current legislation
By continuous monitoring of new legislation and completing training we are always able to ensure a proper accounting treatment of your agenda. If you choose to use our services, your worries and high costs will go away.
The reduction in staff and operating costs
To employ own person for accounting and wages accounting entails significant costs. They represent the sum of wage and payed cost of staff, food, travelling, reimbursements, overtime, holidays, training, handling and maintenance of the office and equipment. If there are non effective months , the employee is not fully occupied and even though you have to pay him, Outsourcing of accounting is ideal solution in this time. Using of our services refers to save costs and you will pay only for services that you really use!
The optimal use of accounting services
Thanks to the complexity of services and attitude to individual clients needs you will get exactly what you really need. We will help you to create the best package that will reduce the costs on accounting and wages accounting. At the same time, you will get the best professionals of our company in this area.
The substitution of workers in accounting firm
In case that you employ the only person for accounting and wages, it may cause the problem when the employee is ill or is absent because of holidays. That situation may lead to the significant problems. Our services are still available to you. We approach to your needs as a company where each of us can be represented and always meet your needs.
Confidentiality
Confidentiality is the principle that respects our company as an entity and also each individual employee. All accounting documents are well-stored in secure areas. We follow strict form of communication. The point of our actions is to prevent the damages on all interests of our clients. We maintain and process all personal data in accordance with the Law on the protection of personal data No. 428/2002 Z.z.